_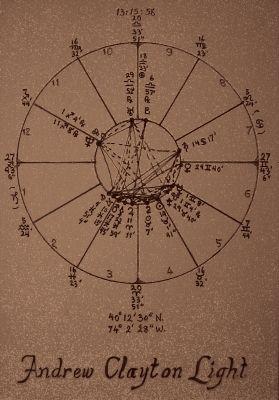 (drawn by my late father, astrophysicist Dr. Edward S. Light)
Andrew Light Music
This Jersey Shore native divides his time between recording, teaching, arranging, and producing music in his studio, LightLab. He is usually active in a variety of projects that span a vast range of styles and requirements, from an intimate jazz duo with renowned singer Allie Moss of the Ingrid Michaelson band, to his 'psychobilly getaway sci-fi terror rock' group the Big Mechanical Bull on Submergent Records. While he has scaled back his concert touring as of late, and he does miss the road, Andrew is happy to be in his studio producing on a full-time basis.
Andrew Light is an accomplished New Jersey-area guitarist, producer, and composer...an artist of deep passion and an unlimited devotion to music. Well known for his proficiency in a number of musical styles, Andrew is equally at home playing vintage swing guitar with a 20-piece big band, creating moody soundscapes and lush arrangements, programming fuzzy electronic drum beats, or playing full-on sensory assault rock for which he first came to be known. As a performer with over 1000 gigs logged he has played the quietest of living room jazz gigs to the loudest of arena rock concerts, as he did in 2003 when playing with Kansas at the Meadowlands. Andrew has toured the U.S. several times with his various original groups, which have included Secret Agent Abe, the Big Mechanical Bull, Red Letter Print, and Lunar City. He is an in-demand producer, arranger, and guitarist around the New Jersey/ New York area, and has produced records for artists in styles as varied as R&B, trip-hop, and traditional Irish folk.
Although Andrew's unique approach to music and his instrument is largely self-taught, he earned a B.A. in music performance from Monmouth University and privately studied jazz guitar with famed jazz guitarist Bucky Pizzarelli. In addition, Andrew studied orchestration with world-renowned composer/arranger/producer Ronald Frangipane, a student of Igor Stravinsky's and recipient of over 30 platinum albums in his career. Andrew has been acclaimed in the U.S. and European press for his guitar playing, which combines rock attitude with jazz virtuosity, steeped in a deep blues feel, and he enjoys a strong reputation as a musician's musician in the New Jersey club scene. Due to his unusually wide range of musical loves and interests, it is very rare that you meet a musician that possesses Andrew's versatility.
Andrew achieved commercial and critical success with his heavy surf-funk band Secret Agent Abe, who spent much of 1996-2000 on the road headlining shows and festivals and getting considerable radio airplay. Plans for a long overdue follow-up to the band's highly successful record 'Canaan', which The Aqarian describled as "a cosmic musical trip leaving no genre untouched", are rumored to be in the works.
Andrew's current main focus is a new project based on his original atmospheric, groove-driven rock that contains elements of all that he loves in jazz, blues, folk, and ethereal rock. Stay tuned for the impending debut of this new band, which Andrew considers to be his best work.
Andrew is also a highly in-demand guitar teacher whose students rank among the tri-state area's most accomplished players. For information on studying with Andrew privately in Ocean, NJ, please email alight7000@gmail.com.